Porcelain veneers
Porcelain veneers are wafer-thin, custom-made shells of tooth-colored materials designed to cover the front surface of teeth to improve your appearance. These shells are bonded to the front of the teeth changing their color, shape, size, or length. Porcelain veneers are the most modern and elegant solution of aesthetic dentistry. It requires a precise preparation from both the dentist and the dental technician.
To prepare a tooth for a veneer, your dentist will remove about 1/2 millimeter of enamel from the tooth surface, therefore valuable tooth material can be preserved. Next, your dentist will make a model or impression of your tooth. This model is sent out to our dental laboratory, where our dental technicians construct your veneer. Finally, the dental veneer is permanently cemented to your tooth.
Advantages of porcelain veneers
valuable tooth material can be preserved
provides an aesthetic solution for You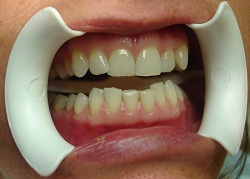 Before
After
Testimonials
I was most satisfied with the service from both yourself and in Hungary. My teeth are great and very natural looking, they in no way look false. The clinic staff were lovely, friendly and most welcoming. The trips and transfers were well organized, and even had time for a city tour.
Thank you so much for your help.
Louise C.