Testimonials
Annette & Steve W.
An enormous thank you for doing all the planning to make our appointments happen. It took a while but we got there in the end. A very humble thank you to Dr Kaman and Dr Nemeth, whom I already consider to be my angels for the work they have done on both Steve and myself, absolutely fantastic. When we talk to people we have only praise and recommendation for them and the team. THANK YOU from the heart. When I look at us both it's as if it was 28 years ago when we got married (well the teeth part) Gorgeous!!!! As our wedding anniversary was spent in Budapest, we truly appreciated Dr Kaman and Dr Nemeth acknowledging it.
The whole visit went very well under difficult circumstances, and we very much appreciated all the care and hard work from everyone involved.
Annette and Steve W.
Alexander T.
I highly recommend Implantcenter, I had 15 implants in one go. The staff here are highly professional, and are very gentle in their approach. I had to come back for a repair (this time) due to biting down on a pork whilst eating. Everything went really well a big thank you to Implantcenter.
Alexander T.
A nice combination of medical/professional treatment
A nice combination of medical/professional treatment with the human side of therapy like to pay attention to the patient, to calm the stress, to support , to encourage, overall: a very good team.
Folch M.
I like your clinic and services.
I like your clinic and services. I also like the display of your prices on the internet. It made it easier for me to decide
I.O.
Totally satisfied.
Totally satisfied. Amazing results considering the condition of my mouth and teeth when i started. Dr Kaman and Dr Tompa are both so professional and cannot do enough for you. The standards throughout the clinic are first class.
J. Hurst
A very professional approch
A very professinal approch, will clear indication on costs and what is involved in the treatment. Overall, extreamly pleased with the treatment, along with fantastic results and a smile l love. would recommend you to everyone looking for this type of treatmemt.
Worldclass and very friendly staff highly recommend
D. Gorman
Very prof. testimonial KJ

Very professional service and first class treatment
KJ
Tatyana S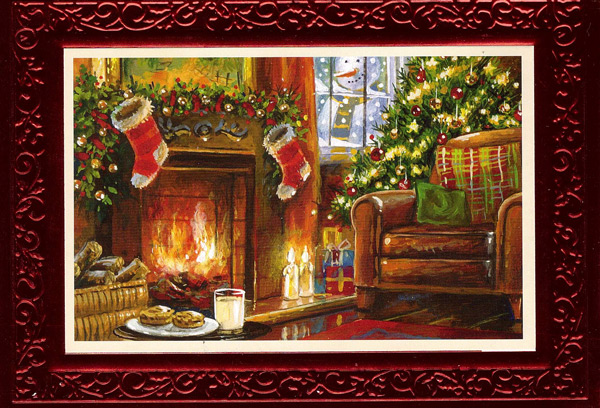 Dear Rita, Dr. Kaman Attila and Andrea!
Wishing you Merry Christmas and Happy and healthy New Year!
Best wishes to your families and to all the great girls and guys (staff) of Implant Dental Center.
Hugs to all of you and great thanks.
Love Tatyana S. (from Chicago :)
John Fusco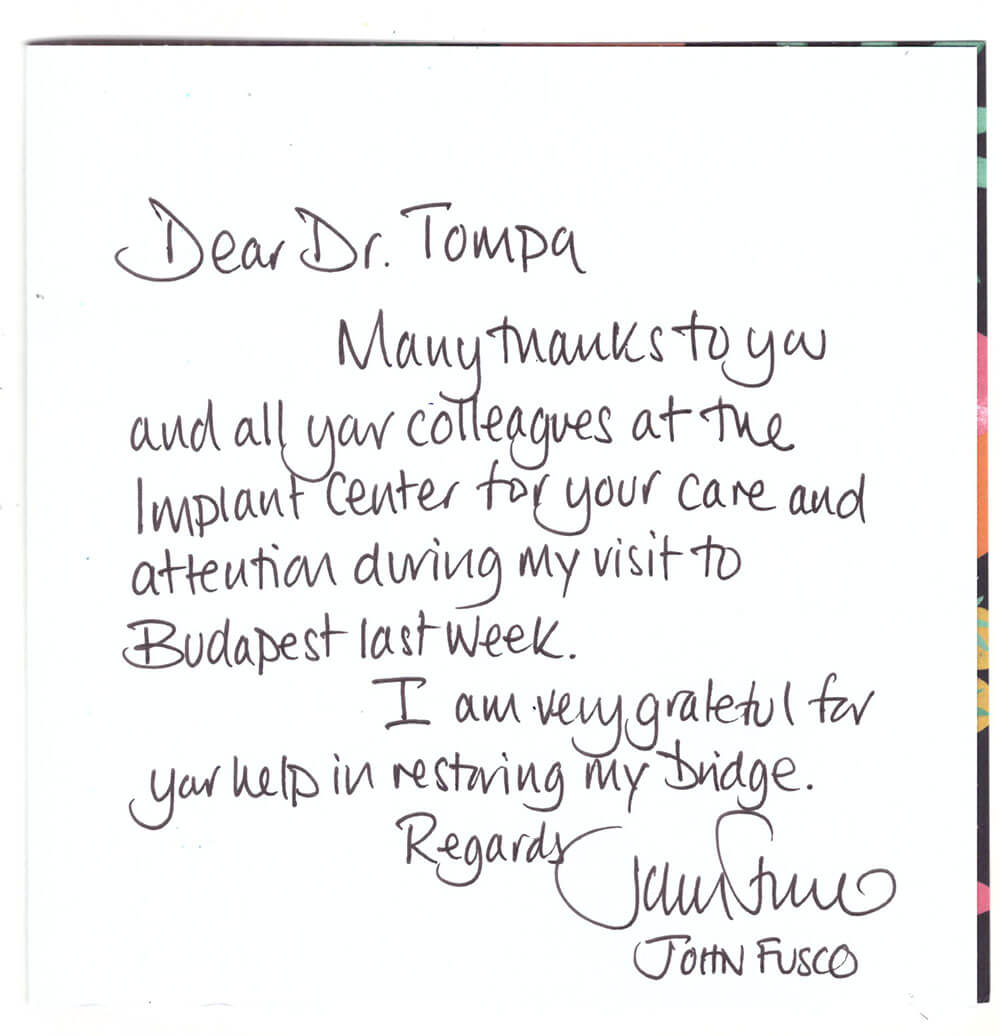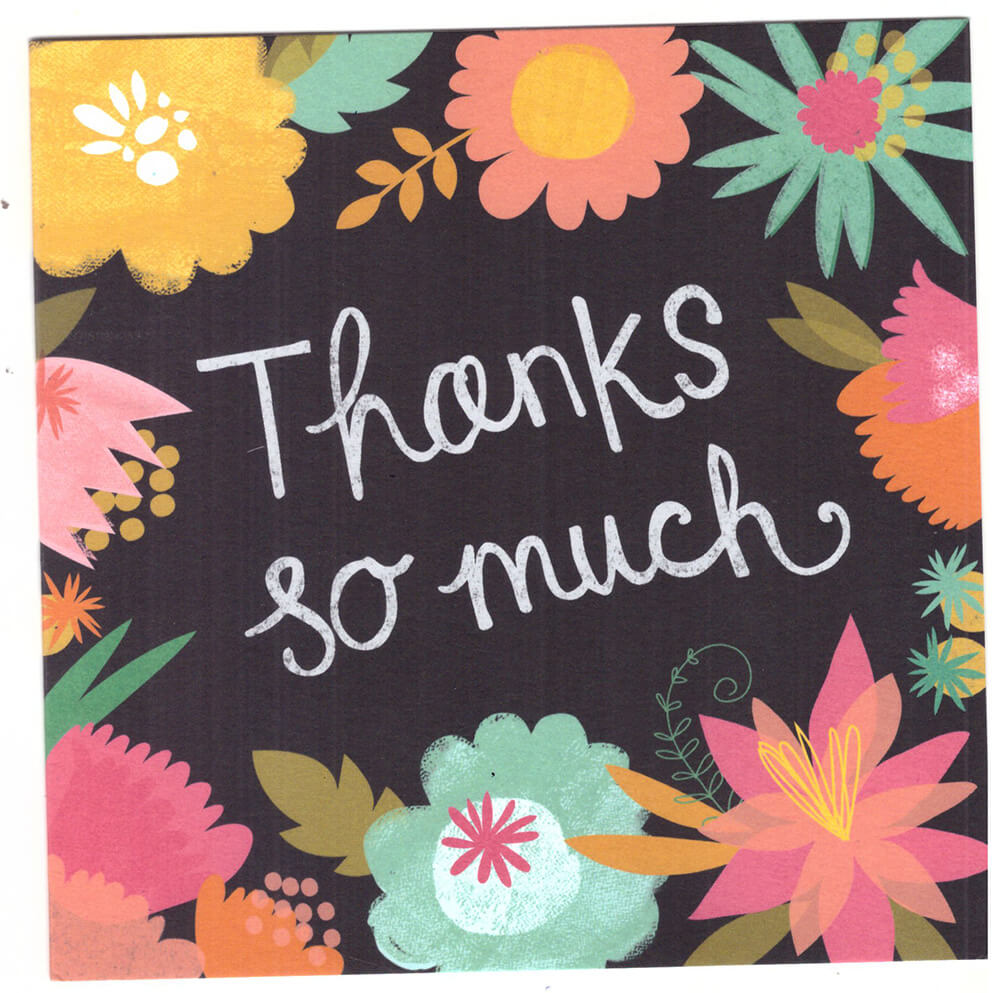 I came over from the UK
I came over from the UK and I have to say that I am very impressed with the level of professionalism and care since I contacted you. I still have a long road ahead to sort out my teeth but I feel I am in good hands.
Rachel O'Connor
Everything ran like clock work, everyone helpful and made the experience easier.
Rachel O'Connor
Excellent, modern
Excellent, modern facilities and staff, the clinic and administration staff are a credit to the doctors and nurses providing surgery. All staff are informative, very responsive and sensitive to the needs of the patient. The surgical staff are extremely dilligent in their approach and vastly experienced, offering a level of inspired confidence I did not recieve at any other clinic I visited. I would recommend this clinic above all others. One of the best decisions I have ever made.
PS
Thanks for everything!
Thanks for everything! I'm really happy about the service I experienced here. :)
I am completely satisfied
I am completely satisfied with all the staff! Thank you for your professionality!
I was apprenhensive
I was apprenhensive initially but Dr Lantos was so reassuring that I felt very much at ease - 'finally'. It's been a truly great outcome and so very professional. I am very pleased with my new teeth - new look and finally able to smile again. A big Thank you to Dr Lantos and to everyone at the clinic.
Kay Frawley
Very professional, courteous
Very professional, courteous, and very affordable. I intend to come back for more work in the future, and will highly recommend the services of this stellar company.
Both of my husband
Both my husband and I had treatment although mine was more extensive and found the whole experience great from our initial contact through to final treatment.
Jane Madden
All treatment in Hungary feels expert and professional. The clinic created a relaxing and safe environment, as a patient I felt respected and reassured.
Jane Madden
D O'Connor
Dr. Attila Kaman and the ImplantCenter came highly recommended by my cousin. Dr Kaman, Dr Lantos and the whole staff completely lived up to, and surpassed my expectations. I had extensive work done and I must say that Dr Kaman and Dr Lantos were top notch - they were not only excellent practioners but were very kind and caring. They continually insured I was comfortable and not in pain. I cannot recommend the ImplantCenter enough!!!
D. O'Connor
B Barbara
This was the best experience of my life from my arrival till my departure if we can say that about a dental clinic. Despite of being extremely busy, the kind reception lady was patient and attentive with all the assistants together. I would only say this about my oral surgeon: he extracted all (I mean all) of my wisdom teeth and I had no pain at all. Everybody was at the highest level both professionally and personally. One of the most organised places I have recently seen. Thank you.
B. Barbara
Mark A
Overall very happy with the work done and how short the appointments were over the three days. Very minimal pain for what I thought was a big procedure, thanks again.
Mark A
Paul S
From my first consultation to my final check up some 16 months later, ImplantCenter has excelled in all areas of my extensive surgery. ImplantCenter operates a world class service that is reflected in each of their staff, from the administrative staff and surgical assistants through to the surgeons. They provide a level of care, attention and skill that is so important to a patient undertaking a life changing operation such as mine. I cannot thank or recomend the ImplantCentre enough, truly outstanding.
Paul S
Claire C
Amazing dental treatment and I have overcome my fear of the dentist due to a very well experienced dentist Dr Lantos. He is so nice and kept me very calm during my treatment.
Claire C
J Aled
Dear Dr Attila Kaman,
Prior to my visits to Hungary, our host had arranged an appointment for me at your Dentistry and Oral Surgery in Budapest. This resulted in me meeting you and your colleagues for an examination of my teeth and a quotation for proceeding with dentistry work in Budapest. It is now 2 years since my dental implants were completed and I want to thank you most sincerely for your wonderful skills and the fabulous job that you accomplished with my teeth, together with you super personality and great discussions. During my treatment I met Dr Hamori Arpad on numerous occasions, the latest check-up and clean taking place in March, 2018. It was following this examination that Dr Arpad commented that the x-ray showed that my teeth looked as though they had just been fitted. It was then that I realised that I had not thanked you before, so I want to extend huge gratitude to you all, Dr Kaman, Dr Hamori and all your colleagues, for your top professionalism, your care and kindness and for making me so grateful in having such a good mouthful of teeth in my 88th year!
Thank you all very much.
Yours most sincerely
J. Aled G.
27th March 2018
M. J.
I had a nice time in Budapest all things considered and I felt that I was treated by qualified and pleasant people. I also appreciated their effort to make me feel at ease.
M. J.
Mel
Dear Attila,
Thank you all for all the care and kindness you showed me while I attended your clinic. You are a darling man. I was sorry I wasn't able to say goodbye and thank you. My teeth look as if they had always been there. I think I will have to charge for views.

Best wishes for Christmas and the New Year.

Mel W.
Martin
The Implantcenter were terrific. I found them to be first class in everything and Dr Atilla was absolutely brilliant. I can't wait to go back in 6 months time for the final surgery. I would not hesitate to recommend the Implantcenter and would be prepared to be a reference point if you have anybody who needs to talk to a satisfied customer.
Thank you for all your help.
Best Regards,
Martin
Louise C.
I was most satisfied with the service from both yourself and in Hungary. My teeth are great and very natural looking, they in no way look false. The clinic staff were lovely, friendly and most welcoming. The trips and transfers were well organized, and even had time for a city tour.
Thank you so much for your help.
Louise C.
Peter C
Just back from Budapest and pleased to report that you have exceeded all my expectations The clinic was superb and way better than what I've expected and Attila was excellent along with the rest of the team.
Once again thanks for your help.
Peter C
Colin & Ali
Once again on behalf of Ali and myself I would like to say a big thanks for setting up our recent trip to the Implant Centre. All went well and the results are excellent,We are both very pleased. Also as before would you be so kind as to pass on our thanks to all at the clinic especially Dr Juhasz wish her all the best with the future addition to her family Dr Kaman, the nurses all the Admin and Reception Staff and of course the drivers.
Regards Colin & Ali
Jun
The team of doctors (Dr Kaman, Dr Juhasz and Dr Klenk) and assistants at the clinic have the highest professional standards, and at the same time they are very nice and caring. I am also impressed by the modern facilities and environment of the clinic. All the other people I came cross at the clinic, including the receptionists and drivers, are very kind and friendly. I am in particular grateful to Dr Kaman and Dr Juhasz who are both most experienced and skilful. Dr Kaman's expertise is world class, giving me all the confidence. Dr Juhasz is very caring and patient with attention to details, and she goes great length to achieve perfect results.
My many thanks to them.
Jun
Elaine
Well I got back safe and sound, everything went really well & I'm delighted with my teeth. I have to say I couldnt compliment you and Ferenc and all the staff there enough. He is a fantastic dentist, I couldnt say enough about him, he is excellent.
Thanks for all your help, you have been great.
Elaine
Doug C
Just to let you know that I am back, fit and well and grinning like a Cheshire Cat so whenever your PR people are ready feel free to either mail me or phone me to make arrangements for whatever they wish to do. Had a great in Budapest, including the Baths etc and was also lucky with the weather.
Thanking You,
Doug C.
Mirek
I am very pleased with the quality of the cosmetic dentistry carried out. Dr zsuzsanna juhasz was absolutely brilliant, nothing but good things to say about dr juhasz. She is an extremely talented dentist and has extremely high standards, the quality of my dental work could not be any better. I know that I would not have got the same care and quality of work here in the uk, dr juhasz certainly put the hours in on my dental work, she works very long hours and you have her undivided attention throughout. Thanks again, pass on my regards to all the staff including the dental nurse who works with dr juhasz. I will definitely recommend the implant centre and if i I need any other work carried out I will definitely return and make an appointment. Budapest is a good city, with very friendly people.
thank you all,
Mirek
Ailie M.
Dear all, This is sent a little later than I'd like just started a new job and work has been crazy since I arrived back in London, but I'd like to thank you so much for the wonderful treatment that I received in Budapest. Everyone from the drivers, to reception staff, to the dentists and nurses were friendly, professional and reassuring and considering the amount of work I was having done and the associated bruising and pain, this was really important to me. I'm extremely grateful. Dr. Lantos in particular - I wish you worked in the UK... Budapest is so far away and I'd love you to be my regular dentist : I've been telling anyone who will listen that if they need dental work done, they should come to to the Implant Centre. The next time I need veneers or crowns replacing, I won't hesitate to return Many thanks again for all the fantastic work... My teeth look amazing
Best wishes to all,
Ailie M.
T. Sufrin
Dear Dr. Janos, Just a short note to thank you for making what could have been a gruelling and most difficult experience into something acceptable and even 'fun'.
With every best wish,
T. Sufrin
Magdalena
I am in fact very impressed with the clinic and the treatment I have received there. Everyone was very helpful and friendly, and the assessment and treatment seemed both very professional and very personal. In short, I am really happy that I did go to the clinic you suggested, and I'd be really grateful if you could pass my thanks and greetings to Dr Attila Kaman and Dr Gusztav Klenk, who are the two dentists who treated me, and to their cheerful and friendly helpers at the clinic I'm afraid I don't know their names.
Magdalena
Brian I.
Had a lovely time in Budapest. Teeth look and feel great - had a little problem with my bite, but its fixed now.
Brian I.
Claire and Liam Kennedy
Dear Dr. Lantos and your lovely team including your receptionists and drivers, Liam and I wish to thank you for the wonderful treatment while visiting your center and we are very happy with our results and new smiles. All your staff are very very friendly and always smiling and happy. Your city is beautiful and we will visit again and we will call in even if we have no problems with our teeth Thank you once again and Dr. Lantos for being patient with me(Claire) We will be recomending you to everyone.
All the best, yours sincerely,
Claire and Liam Kennedy
Julian
Where do I start I was so impressed by all the work undertaken and above all else the final results. Perfect aesthetically, with no after problems or discomfort. Eating is now a pleasure no more indigetion, its nice to chew your food instead of swallowing lumps due to poor bite and bad teeth. All is now perfect and I mean perfect. All during my visits every attention to detail through from collection at the airport, through to departure was 100, if I could give a higher mark I would. Never in a million years did I think a dentist would ask me back in to take even more photos of my finished teeth... loved it. The only concern is I am now hooked on oral hygene. I'm proud now to talk to people and know they admire my new teeth. When Dr Nemeth showed me my finished teeth in the mirror, its do all you can to hold back the tears....failed I was so happy. Thank you so much Dr Nemeth ( great humour and top bloke ),Dr Kaman, Laszlo, Tamas ,Geze, all the receptionists and particularly the dental assistants. Even the M&M's were happy....the receptionists will understand that one. I will shut up now as the list of thank you's for the wonderful work done will be longer than Avatar's ending credits. PLZ PLZ forward this on to the Implant Center to express my thanks. I will contact you soon to arrange a checkup.....of do I mean an excuse to get away for a few days
Best regards,
Julian
D.
Hello, Just spoke to B.G. who is so delighted with the final result. He said that if he wanted to find a fault with any part of the service or treatment, that he would not be able to find one. He literally said that all of you were fantastic :- Many regards from Bernard to all with the thanks for the great treatment and service:- Thank you very much on my behalf too.
Many regards,
D.
Paul
Hi there I just want to email to thank everybody at the Implant Center for your wonderful care & excellent treatment, particularly to Dr. Lantos. I would like to give you the following recommendation to use on your website or brochures & would also like to allow you to give my contact details to potential patients if they are looking to speak to somebody who has had treatment with you, especially potential Irish patients. I have had a huge phobia about visiting the dentist throughout my life especially after an incident 10 years ago when I had my 4 front upper teeth knocked out in a football match. I had been wearing a denture until I finally decided to try to find an alternative solution. Having explored a number of options, the Implant Center seemed to provide an excellent service at a very reasonable cost. I discovered I required 4 implants on the bottom & a fixed permenant bridge on top to replace the denture with crowns required to replace all the other top teeth except my wisdom teeth. The treatment took 2 visits to Budapest 3 months apart. The treatment I received on both occasions was of the highest class. Dr. Lantos and all the dental assistants were extremely conscious of my phobia & were constantly reassuring me & making sure I was feeling comfortable at all times. I cannot describe how much better this made me feel in comparison to previous experiences at the dentist As for the quality of the work, it was amazing I can now smile with a confidence that I never had before & my mouth feels extremely comfortable for eating. I would also like to praise the work of the administration staff for their efficiency & thoughtfulness in organising appointments etc.. The drivers were also very punctual, welcoming & friendly. The cost of the treatment would have been at least 3 times as much in Ireland & Budapest is also a fantastic city to visit. Finally I would just like to say a big thank you again to Dr. Lantos & the Implant Center for restoring my smile Thanks again & I will be in touch sometime next year to arrange an appointment for a check-up to see if everything is going well.
Kind Regards,
Paul
Les R
First let me say how pleased I am with the first class service provided by the implant centre. I was a little apprehensive at first on arrival, but my fears were quickly unfounded, after I was met at the airport and taken to the nh budapest hotel, which I must admit was a pleasant suprise. Dr Juhasz and dr Klenk and medical staff were most pleasant,everyone put me at ease immediately.There dental skills and facilities are first class, I would have no hesitation in reccomending them to anyone. In fact I have already given your email address to 2 people in the uk who have asked me about similar treatment. Again many thanks, especially to you for your organising skills and making it all seem so simple and easy.
Many thanks,
Les R
Kirsty M.
Just a short note to thank you for all your help with my teeth bookings: The service you provide is excellent and I chose you between 4 dental companies. Good luck for the future.
Kind Regards
Kirsty M.
Derek & Shirley L
Shirley & myself are very pleased with the treatment we received in Budapest although I myself am finding it odd to have teeth in gaps that have been there for 50 years Even my own dentist was impressed with the results and wanted your details to recommend to his patients We were also impressed with the friendliness of your staff and the standard of accommodation. Please, pass our thanks to them and Dr Lantos for his excellent work. I am in no doubt that we will be visiting the centre again at some time in the future.
With kind regards,
Derek & Shirley L.
John D.
Thanks very much. Yes, I enjoy my smile every single day. :- And I am a good ambassador for your clinic as I recommend you to many people. I would be happy for you to give my mobile phone details out to anyone in the UK you wished to get a 2nd opinion on using your surgery. I am deeply grateful for your excellent professional services. I did much research for months before choosing your clinic and my efforts proved very beneficial as I think I made the best choice. Thank to all at the Implant Centre and especially Dr Nemeth.
Kind Regards,
John D.
Doug
Back at work today. Well phase 1 has been completed, lots of teeth out and 1 implant fitted so far. Got temporary bits top and bottom. The Implant centre was great, the dentists I saw were very kind and professional, and I was impressed with the standard of work. The apartment was great and ideally located. Many thanks for your assistance when required, it is certainly reassuring that you are there to help out when required. Thanks once again for your help.
Kind Regards,
Doug
Bryan
I just want to pass on my thanks to yourself and everybody in Budapest for all your help last week. It was much appreciated and I'm very happy with the results and my experience,
Regards, Bryan
J. & G. I.
Dear Dr Kaman, I must write to you saying what a fantastic Job you made of my teeth bottom jaw and lower jaw. Dr Zsuzsanna was just marvelous. The top denture feels just like my own teeth and very comfortable. Very little food gets trapped underneath and I only take my dentures out to clean after I have eaten. The bottom denture is OK but not as good as the top. So if in the future I can have bone grafting in my bottom Jaw so that I can have implants placed this is what I would like to do. Please let me know when this would be possible.
Best regards,
J. & G. I.
Carlo A.
I was quite impressed with the practice, staff and practioners from a professional stand point. The shuttle service from the hotels was good and they chucked in a complimentary City Tour.
Regards,
Carlo A.
Iris
Once again a big thank you for all your help -from start to finish communication & organisation have been fantastic I would just like to let you know how delighted I am with the finished result, you really have saved my smile. I have had lots of complements from everyone and they have all commented on how natural the look is. Not only have I saved a considerable amount of money I have had the added bonus of spending time in beautiful Budapest which, after 3 visits has become one of my favourite cities and I have no hesitation in recommending the clinic to everyone... Please pass on my thanks to Dr Kaman & Dr Gruming and everyone at the clinic
Best regards
Iris
Billy and Ann O'N.
Very pleased indeed with the work carried out by Drs. Klenk and Lantos. Enjoyed our stay in Budapest. Thank you very much for all you help and kindness in making everything run so smoothly. Also many thanks for the favour to Ruth.
Kindest regards
Billy and Ann O'N.
Emma
Just a quick e-mail to say thanks for all your help with arranging my trip etc. Back now and all went to plan and I had a great time again in Budapest - such a lovely place! I'd really appreciate it if you could please also pass on my thanks to Benko, he has done a wonderful job on my teeth - they look fab. I will certainly be going back to see him if I need any further work doing in the future. And also thank Geza for driving me around and being so helpful - he's a great guy!!
Emma
D. R.
...have just returned from budapest after having some treatment, very impressed with quality of work.
D. R.
Justin T.
I just wanted to say a quick thank you for the flawless arrangements that you undertook for me for my recent trip to Budapest. The transfers were handled well and the accommodation was of excellent quality and value for money. I want to thank Dr. Juhasz and her assistants for the 'miracle' that they painlessly performed during my week in Budapest. I can beam a confidence smile again, for the first time in many years, thanks to their expertise. Finally, please pass on my thanks to Dr. Kaman and Dr. Klenk for being so friendly and for making me feel so welcome to their beautiful city.
Yours sincerely,
Justin T. UK.
N. Harrison
The Surgeon was most professional. The lovely Suzannah bright and sunny. The Reception staff most helpful. The wonderful drivers most effecient. And i must say a big thank you to yourself Veronika in helping me through the IT as i am hopeles at Internet. The Art'Otel was fun. The Danube also looked lovely in the snow.
Best regards
N. Harrison
Lennard
I was meant to email you but have been a bit busy here at work as per usual. I truly appreciated the service level and attentiveness of everyone and equally pleased with the professional work done and the manner in which it was executed so would be happy to recommend this to anyone with a dental situation. Also personal thanks to you for being responsive and easy mannered. I understand there are plans for a London clinique- wish you the best of luck with this project.
Kind regards,
Lennard
Amelia
Dear Dr Attila, I would like to thank you for helping me having my treatment in your clinic. Your gentleness and professionalism is recognised worldwide. Also a special thanks to Dr LANTOS János and Dr KLENK Gusztáv and to assure them that everything is fine. It has been a pleasure to be in your premises, and I want to congratulate you and your colleagues for their professionalism and kindness. I recommended (already) your cabinet to all my friends and colleagues interested. Wish you all the best in your future activities.
Best regards,
Amelia
Sandra B.
...I am very happy with the results with my treatment at the clinic. Please thank Dr Nemeth and Dr Attila for their professional attitude and attention they put into their work - they have been just brilliant all the way through from beginning to end. You can tell Dr Nemeth that I am now smiling again
Kind regards
Sandra B.
Doug K.
Just a quick email to say everything worked out well, the day went without a hitch yesterday. I'm delighted - a little tender, being careful eating etc but overall very happy with the way things went. I think what struck me about the process was that there was no messing around and the team got straight down to business, they were extremely thorough and everything was organised such that I never felt like they were going through the motions. I was impressed with Dr Juhász, but also with everybody else who I came into contact with from the girls on the front desk to the technicians who were involved.
Thanks,
Doug K.
Graham Richards
Would you please pass on my thanks to Dr Lantos (a very charming and dedicated professional man) for his ability to organise the replacement broken temporary and fit it the same day, and to Dr Kaman for his excellent surgery skills in fitting the 8 implants and the bone grafts with such speed and skill, (a very confidant Dr with a great reassuring personality). And to all the rest of the staff at the implant centre that all play there part equally as well. I will try to do my best to be sensible with my eating habits and avoid compromising the temporary dentures for the next six months.
Graham Richards
Zelie
The new teeth feel exactly like the rest of my teeth and even my own daughter can't tell which are the new ones because they match so perfectly. Please pass my thanks to Dr. Karman and Dr. Lantos and also to the technician (unfortunately I don't know her name) who did such a brilliant job. The whole team looked after me so well. I understand from Dr. Lantos that I need a check-up in a year's time. Is that something that you alert me to or do I need to contact you for an appointment
Thanks once again to you all,
Zelie
Gary
The results I am very happy with and all I have had is positive comments from various people who all have said that what a great smile you have. I had a good smile before but not great teeth and I feel a lot better within myself now so send my regards to Georg. So far so good and no problems following on from the visit.
Kind regards,
Gary.
Claire S.
I am also very relieved that you introduced me to the Implant Centre and Dr. Kaman and Edina is this the correct spelling Edina had the task of driving us all over the city in horrendous traffic because of the protest against traffic. She was lovely, very funny and extremely patient. Dr Kaman is such a kind and gentle man, he looked after me so well last Thursday. He explained everything in great detail to me. The apartment was fabulous Very central. Your Brother is also very nice, we felt very guilty having to get him up so early on Saturday morning Please send our apologies. I must say I love Budapest and the Hungarian people that I met. They are all extremely nice, helpful, pleasant and very happy people. On both occasions that we visited Budapest we came across fabulous restaurants and bars. We had a drink in the bar across from your apartment, it reminded me of a bar where we go in Ireland, and the restaurant we went to on Friday night had Jazz on so we had a brilliant time. I have told everybody they have to visit Budapest and anybody that needs dental treatment to go to the Implant Centre to see Dr Kaman.
Claire S.
Sue
Hi, I am really pleased with my new teeth. So many people have said how loovely and natural they are. Its taken me a little while to get used to them as i had such a lot of problems with my teeth before i came to you and i havent been able to eat properly for about 2 years. Dr Nemeth has got so much patience, i was in his chair for about 4 hours one day to have impressions and get the bite just right which was worth it in the end. I didnt get to thank Dr Kaman because he wasnt at the clinic very much, would you please thank him for me and tell him how much i appreciate the work he did putting in the implants. I used to wake up every morning unhappy and depressed with my loose teeth and bleeding gums. Now I wake up and feel so happy that i have a mouth of infection free lovely teeth. I must admit i clean them after everything i eat as i am so woried that something will go wrong and i do tend to get a build up of plaque, i always have had that problem. Everyone at the clinic is so helpful and no one gets stresse. You all make a really good team. Do I get in touch with you next year to go for my checkup in Budapest or do you remind me.
Thanks again
Sue
Mark B.
Just a word of thanks for everything. The correspondence and the hotel bookings etc. I had my final 2 days work yesterday and Weds. I ended up having quite extensive work undertaken, much more than I anticipated But I had confidence in the staff there, and I chose the best implants and materials etc. Overall, well worth the almost 10,000 money. I'm very pleased with the Clinic, and the results. Special thanks to all the Staff especially Suzanne and Sylvia and Attila and also the technicians who were most helpful. Please pass on my thanks to all the staff at the Implant Centre.
Kind Regard,
Mark B.
Charles
...It is nearly three weeks since I last saw Dr Lantos and I can say I am very pleased with the results. I have been impressed by the polite efficient manner of the Implant center team and the clear expertise of Dr Attila Kámán and Dr János Lantos.
Kind regards,
Charles
David S.
Dr Kaman,
Thank you again for the excellent treatment I have received from you and the staff at the Implant Centre. I will be back in the clinic on the 29th of May and hope you are available for a brief chat - you will be seeing my brother in law next week, after severl other UK referrals, so it will be good to discuss our continued relationship.
Best regards,
David S.
Iris McIntyre
Dear Dr. Kaman,
Thank you very much for the implants, teeth and my new smile Your service has been excellent, and I am very glad I made the decision to come to Budapest for the implants. Dr. Nemeth was excellent. I am sorry to have missed you the day I left, and hope that you will perhaps consider a link to Scotland in the future, (Glasgow) as you do with Dublin. Every success with your expansion.
Kind regards,
Iris McIntyre
Ian B.
Hi to everyone at the Implant Centre.
Sorry it has taken so long to write this. Well, what can I say about my trip to Budapest First off, I should say that my teeth are superb. Absolutely fantastic. I could not be happier with how they have turned out. For someone who had an unnatural fear of Dentists for so long, I have say that the staff have such an easy way of putting you at ease. I would like to mention a few names to thank for their kindness, friendliness and great way they have about them. First off, to Dr Gruming Georg. He had his work cut out with me. My old teeth were a mess. What he has transformed them into is remarkable. He should no end of patience, skill and care in dealing with me. Not least on the Root Canal day. Although, that Palinka drink he gave me at the end of the day was like fire water. He is a superb dentist and a very nice person with it. I cannot thank him enough. Next, to Dr Gustav Klenk. The operation he completed on the second day of my first visit may, to the outside eye, have looked painful, but he ensured that it wasnt. He is also an extremely funny person. To Hanna Baskay, my always attentive dental assistant. She was always there to re-assure me. With her colleague (apologies for not knowing her name) they kept me calm and helped me cope with the hours spent in the chair. To the drivers. Lazslo, Giza and Tomas (Apologies if I have spelt their names wrong. They were always chatty and friendly. Lazslo was like an unofficial tour guide, telling me places to go and stuff to see, and even though Giza supports Manchester United I can forgive him because he is such a friendly person. (Remember Giza...Arsenal forever) Finally to the girls on reception. Thank you for your warm smiles and helpfulness with every query asked of you. My favourite is Noemi Farkas. Always ready with a smile, an offer of tea, a friendly word or just to ask how I was. Noemi, if only I were younger and you were single… I would not have been brave enough to go through with it had it not been for you. Once again, THANK YOU all. I have so much confidence in my smile now that I actually cannot remember not smiling before. My friends cant remember how bad my teeth were before which goes to show what a superb job you have done on them.
With my very kindest regards,
Ian B.
Symon H.
The trip was great, the work seems excellent. I know a lot of people have the work done in this country but they don't do it 'all at once' so it was quite a long day Monday having the treatment. However the dentist was extremely friendly, considerate and did a fantastic job, and I decided to have additional treatment too. The end product looks very natural. The Apartment was excellent value for money, the taxis were always on time and in the most, chatty. I'll certainly do it again - assuming I'll need to.
Best regards,
Symon H.
Yusuf
Dear all,
It's been a long year since my consultation in London but its been worth every day. I would like to thank you for every thing the results are amazing and worth the pain. Could you thank the whole team on my behalf especially Dr Kaman,Dr Gustav and Dr Lantos who was very funny and helped to take my mind off the treatment.
Once again a BIG thank you.
Yours faithfully,
Yusuf
Kevin-q
I am so very grateful for the attitude and commitment to everyone I've ever have encountered.
The doctor (Dr. Tari) was a "hero"... professional, courteous, generous, polite ... and gave more of his time and professional ability than is considered the norm today.
Seriously ... thank you.
Kevin Quinn
Andrew Prior
Had most of my teeth replaced with implants. Cost a fraction of what it would have cost in London – and great opportunity to see Budapest. Staff at clinic fabulous! Excellent dentistry, great customer service. Would recommend to everyone.
Andrew Prior