Orthodontics external
DAMON TECHNIQUE
Damon Clear is part of the innovative Damon System, which combines tieless brackets and high technology archwires that are clinically proven to move teeth fast and comfortably with spectacular smile and facial results.
Damon Clear uses what's called a "passive" slide mechanism to maintain archwires within the bracket, allowing them to move freely. This reduces friction and binding, so your teeth can move quickly and more comfortably.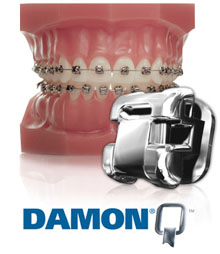 Damon technique: orthodontics external
Why Damon Clear Braces?
Damon Clear braces are more discrete and resistant to staining and discoloration all throughout treatment.
Fast treatment - clinical studies demonstrate that Damon System treatment is up to six months faster than traditional braces.
Another benefit: No need to worry about lost, misplaced or forgotten clear aligners, so you get in and out of treatment quickly
Greater Comfort without Tightening
No Speech Impediments: Some people suffer from speech impediments with invisible aligners. With Damon Clear, you don't have to worry about any speech problems.
Few office visits
Easy to keep clean
Appropriate for both adults and children
Testimonials
This was the best experience of my life from my arrival till my departure if we can say that about a dental clinic. Despite of being extremely busy, the kind reception lady was patient and attentive with all the assistants together. I would only say this about my oral surgeon: he extracted all (I mean all) of my wisdom teeth and I had no pain at all. Everybody was at the highest level both professionally and personally. One of the most organised places I have recently seen. Thank you.
B. Barbara