Orthodontics external
DAMON TECHNIQUE
Damon Clear is part of the innovative Damon System, which combines tieless brackets and high technology archwires that are clinically proven to move teeth fast and comfortably with spectacular smile and facial results.
Damon Clear uses what's called a "passive" slide mechanism to maintain archwires within the bracket, allowing them to move freely. This reduces friction and binding, so your teeth can move quickly and more comfortably.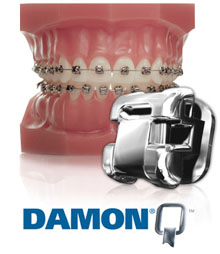 Damon technique: orthodontics external
Why Damon Clear Braces?
Damon Clear braces are more discrete and resistant to staining and discoloration all throughout treatment.
Fast treatment - clinical studies demonstrate that Damon System treatment is up to six months faster than traditional braces.
Another benefit: No need to worry about lost, misplaced or forgotten clear aligners, so you get in and out of treatment quickly
Greater Comfort without Tightening
No Speech Impediments: Some people suffer from speech impediments with invisible aligners. With Damon Clear, you don't have to worry about any speech problems.
Few office visits
Easy to keep clean
Appropriate for both adults and children
Testimonials
Dr. Attila Kaman and the ImplantCenter came highly recommended by my cousin. Dr Kaman, Dr Lantos and the whole staff completely lived up to, and surpassed my expectations. I had extensive work done and I must say that Dr Kaman and Dr Lantos were top notch - they were not only excellent practioners but were very kind and caring. They continually insured I was comfortable and not in pain. I cannot recommend the ImplantCenter enough!!!
D. O'Connor