Introduction
Pearly white healthy teeth and a natural smile - this is what you can see on television, in various commercials and in the movies of Hollywood.
Would you think this dream can come true? There's no need to daydream anymore! Having a whiter, brighter, more dazzling smile has never been easier! Come and visit our clinic for a consultation. Our experience guarantees that you never have to hide your smile again!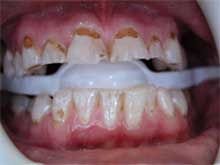 Before treatment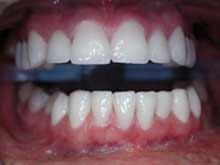 After treatment
Almost everyone faces a dental problem at some point in their lives: bad breath, tooth decay, gum (periodontal) disease, tooth sensitivity – just to name a few. At our clinic in Budapest you can find solution for all kinds of dental problems. Three oral surgeons, six dentists, two otorhinolaringologists and an anaesthetist help you to find the best treatment, from the simple extraction to the most difficult implantation.
Schedule an appointment now in order to avoid unnecessary waiting time!
Implantcenter is located in the heart of Buda, near the Mammut shopping centre. Our highly qualified dental professionals provide treatments in a pain-free, calming and elegant environment with the most advanced dental equipments.
Why would you neglect your oral hygiene? Talking, eating, drinking – are all parts of your daily routine. Aren't healthy strong teeth and a nice smile make them a lot easier? Unfortunately, most people find a visit to a dentist intimidating, and postpone their treatments until they face a serious problem. These are those occasions you think with regret: 'If only I would have visited my dentist in time...'
A closed mouth wedding, a no smile business meeting, a quiet date or "no teeth" smile every time somebody points a camera at you – do these situations sound familiar to you?
Don't hide your smile anymore!
The Implantcenter's Doctors will provide you with a solution to any problem! With over 28.000 placed implants, and successful treatments, our highly experienced dental team offers you an aesthetic, healthy, and safe alternative in modern dentistry. Using the most advanced dental technology available our doctors provide the same satisfactory result every time.
Call today to schedule your first appointment with your dentist, our team is at your service!
Have a nice smile!